Impartial Journalist disarms himself of his footwear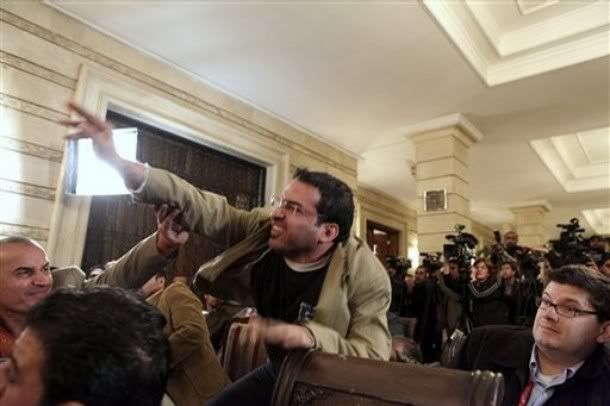 Size 10 Insult? Pfft! I don't suppose he was given
his shoes
back?
If Muntadhar al-Zeidi lobbed his bra and panties at the President, I'd be concerned. As it stands, I don't care how serious an insult Middle-Easterners think attacking a person with shoes are. It'd only be harmful if the man's got athlete foot fungi clinging to them, as a biological weapon of minor disruption.
Did anyone bother to check the shoes for biological agents? Parasitic fungus is communicable.
Inevitable that he'd be hailed a local hero and make a name for himself amongst the moonbats in the Middle East (and the ones, here back in the U.S.).
Shouldn't he be directing his anger at
the militants who tortured him
, and who we've been fighting against?
Certainly gives added new meaning to the phrase, "lame-
duck
president".
President Bush looked into his eyes and was able to get a sense of Muntadhar's sole...
*UPDATE*
Most of the Iraqi blogs I visit are rather anti-Bush and express the expected praise for Muntadhar. But get a load of this series of reactions printed in the
NYTimes
, and by way of
A Soldier's Perspective
:
In the city of Kut– In the provincial capital of Wasit Province, residents took issue with the Iraqi journalist's methods and felt that he had insulted Iraqis.

Haider Ali al-Seray, 25, said: "What he has done is improper within our Islamic Iraqi society. Whatever his motive is, Bush was a guest in the state of Iraq. We demand that the prime minister issue restrictions for the reporters in order that this will never happen again."

Ali Hassan Zweyid, a 30-year-old day laborer, said: "They say that Iraq is a democratic state. Morally speaking, he would have better asking Bush some provocative questions to provoke him and despise him."

Qasim Abdul Ridha, a 37-year-old teacher, said: "What he has done is improper within the profession of journalism. He conducted an aggression against the flag of Iraq. The democracy is not shoes. We demand the government prosecute him."

In the city of Karbala – In the holy city that is a main destination for Shiite pilgrims, residents were split on the shoe-hurtling.

Abu Qasim, 47, said: "What this journalist did is an act of street kids, because he doesn't know that without America, Saddam wouldn't have fallen — not for tens of years."

Abu Sura, 43, called it "rash action that doesn't fit with his profession, which is supposed to be moderate and neutral as it brings the facts to the people."

Abu Ali, 48, said: "I congratulate this brave man who expressed the opinion of most of the Iraqis."

In the city of Basra – Iraqis in the oil-rich southern port city of Basra, residents agreed with the Iraqi journalist's low opinion of President Bush, but not with his actions.

Sayyd Basim al-Musawi, a member in Basra provincial council and the chief of the security committee said: "Professionally, it wasn't suitable for him as a journalist because there are many democratic expressions that he could have used, like interrupting Bush's speech during the conference or making noise, but the shoes express the low moral level."

Dhyaa Mahdi Salih, a 56-year-old lawyer, said: "What this brave journalist did is nothing but rejecting the tyrants in our country. And this journalist deserves to have a statue as he was throwing his shoe at the American president."

Saeed Naji al-Ibadi, a 49-year-old pharmacist, said: "There's a reaction against this journalist and his improper behavior as he represents the journalists and educated people in our society. Because he should have rejected the American president with his pen or by embarrassing him with his smart questions, not with his shoes. I totally reject this behavior because it will damage the rights of individuals."

Nasir Mahmood al-Bahadli, 52, an academic said: "We are Arabs and we have a good reputation in hospitality with enemies before friends. The American president also was accompanying the man who represents the Iraqi government and this made it worse because this journalist also abused the prime minister with his behavior."

In the city of Baquba – In the largely Sunni Arab capital of Diyala Province, many residents were critical of the journalist.

Saeed Shakir al-Sayyd, a 40-year-old teacher, said: "Freedom and democracy should be explained in a correct way. I think what Muntader al-Zaidi did is incorrect and not professional… He's a journalist and deals with the language of words, and not throwing the shoes and cursing. This man was wrong."

Nawal Jaafer, 30, said: "Yes, we all hate America because it destroyed Iraq and distributed sectarianism among its people. I think what al-Zaidi did is a real expression on what's hidden in the hearts of the Iraqis."

Karim Muan al-Qaisi, a 50-year-old merchant, said: "Despite my hatred of Bush, he's a president for a big country and a guest for the Iraqi government. And we as Easterners think insulting the guest is an insult for the host. Despite our hatred of the guest, there should be respect and diplomacy."

Bilal Midhat Hussein, a 44-year-old photographer, said: "It's not in the nature of the Iraqis to insult anyone — even their enemies. I was a soldier during the Iraqi-Iranian war and we arrested many Iranian soldiers who killed our colleagues, but we never insulted them. And that's just a simple example of the big mistake of yesterday because this journalist insulted all the rest of the journalists. Because none of the Arab journalists would have dared to do so because they already know the consequences."

In the city of Ramadi (of all places) – In the capital of Anbar's largely Sunni western province of Ramadi, some residents condemned the attack.

Ahmad Jeyyad, 36, a professor in the college of agriculture in Anbar University, said: "What we have seen in TV is more than an action by a journalist. It was an action by an Iraqi citizen who lost his mind because of the woes of occupations. My family clapped when they saw the shoe. They praise Muntader for his action, but we do not know the reasons behind it. He may have had one of his family arrested by American forces or he may have political affiliations or other reasons."

Ahmad Abu Risha, the head of Sahwa Council in Iraq, said: "We condemn what happened because the American president is the guest of all Iraqis. The Iraqi government has to choose good journalists to attend such conferences."

He added, "I had attended the White House and there were reporters known as White House's reporters. So why are there not well known professional reporters be chosen for such tasks?

"On the other hand, Muntader insulted Iraqi journalists. We are calling for his channel to apologize." He added that "in spite of everything, we are demanding to release Muntader."

Ahmad Jbaeir, a 25-year-old law school student, said: "I was very glad when I saw the shoe on TV. I do not care even if he was a journalist or an ordinary citizen, but he expressed the feelings of Iraqis who hate Bush because he killed us. So we are demanding his release."

Saddam Loqman, a 21-year-old shopkeeper, said: "My father was arrested by Americans and I wish I [could have thrown the shoe] instead, but if I was a journalist, then I have to respect the occupation when I get to the conference hall." Then he laughed and said, "I think that the Iraqi government will permit journalists to attend conferences only after taking their shoes off."

Haitham al-Kood, 30, said: "I think Muntader was paid for his action. He has to be pushed by some side. We are demanding the government to prevent such actions. And if only Maliki was in the conference, then Muntader would be dead, but fortunately Bush was in the conference too and he said 'it is the price of freedom.'"

It's also good to see that Bush still has his combat pilot's quick reaction. Did you see that duck and weave?!
Also found at
A Soldier's Perspective
:
From the Kurdish press, via
Gateway Pundit
:
On December 14, 2008 President Bush and Prime Minister Maliki had a press conference in Baghdad. An Iraqi journalist threw his shoes one at a time at the American president. Interestingly Mr. Bush moved very quickly and dodged the shoes so none of them hit him. Apparently he is physically very fit and might have an extensive experience in dodge ball. Most likely dodge shoes becomes the favorite game of children who watch Al-Jazirah. I am wondering if the angry man had thrown the shoes at his own current leaders who welcomed Mr. Bush, would Prime Minister Maliki or President Talibani have been fit enough to protect themselves from being hit; probably not.

Nobody claims that President Bush is flawless or that he should not be criticized. In fact almost every American journalist including the one from his own party rightfully criticize him on a regular basis for his mistakes. However, compare to Saddam whom he removed from power, President Bush is actually a saint. President Bush did not feel insulted and even made a joke about the size of the thrown shoes, which might indicate his mental fitness. I am wondering if the angry man had thrown his shoes at Saddam, would he or any of his family members had been allowed to live any longer; probably not.

Although I am not an Iraqi but a Kurd, I felt embarrassed for the behavior of the angry reporter. For decades Kurds and Iraqis have fought for freedom of speech and press. If a journalist can not respect his own profession and violates the rules of free press, how could the world trust the region to become free? As Middle Eastern we are already labeled as barefoot people for taking off our shoes at our homes, mosques, beaches, and deserts. We do not need our reporters to be labeled as barefoot journalists and denied access to conferences where keeping shoes on is part of an appropriate attire and manner! In fact we need to reject barefoot journalism.

Considering his behavior, probably the angry reporter does not qualify to be a journalist at this stage of his life.
Great column by
Ralph Peters
, as well.
Labels: George Bush, Iraq, Muntadhar